When:
February 13, 2021
all-day
2021-02-13T00:00:00-05:00
2021-02-14T00:00:00-05:00
Where:
Gallery 444
444 Commercial St
Provincetown, MA 02657
USA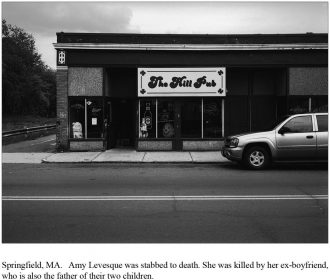 To Raise Awareness of the Ever-Increasing Level of Violence in Our Society
Large scale Black and white photographs by Tara Conant
The Sites project began when there appeared to be a sharp rise in the number of murders of women in Western Massachusetts. The locations photographed are at the scene of the crime or in close proximity to where one took place.
As the project grew and developed, it became instantly clear the random nature of the murders. Not just indiscriminate acts of violence, since family or friends often committed many of the murders but in the ordinariness of these settings. The places we generally regarded as safe, were no longer so. Modest homes, parking lots, shopping malls; the locations of our everyday life have become something else. This project is a visual investigation and documentation into the social landscape of these locations where women have been found murdered or abducted.
On a much larger scale, the hope is that these photographs could function to help raise awareness of the ever-increasing level of violence in our society, which seemingly has become almost 'acceptable' and that this violence should not be tolerated. These works can serve as a remembrance for the victims of these violent crimes so that they will not be forgotten.
The Sites project was a past recipient of the Massachusetts Cultural Council Artist Fellowship.