When:
2022-07-13T00:00:00-04:00
2022-07-14T00:00:00-04:00
Where:
Gallery 444
444 Commercial St
Provincetown, MA 02657
USA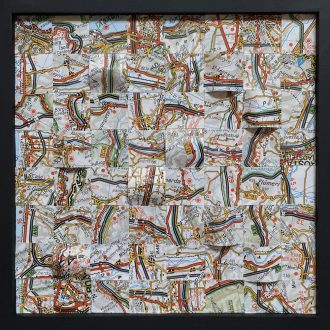 Sian Robertson at Gallery 444 PTown
July 13 – 20, 2022.
Opening on Friday night.
Artist Statment
I am a self-taught artist originally from the UK, now living in North Truro on Cape Cod.
While I work in a variety of media – collage, assemblage, altered books – my primary source material is almost always used maps and atlases. I create three-dimensional art from maps, which themselves are a two-dimensional representation of a three-dimensional world. When I select maps to use in my work I'm driven almost entirely by the aesthetics of the colors and shapes within them. I 'excavate' the maps – hand cutting away specific areas, which then heightens the focus on others. With spaces between the roads of a map removed the viewer is able to peer deep into the mass of tangled layers of streets, perhaps a symbol of the messiness of interconnected lives. There is both a sense of loss, of the absence of what has been removed, and a sense of resilience and endurance, as the roads remain intact within the fragile structure of the now lace-like pages.
Maps are of particular interest to me – they are beautiful to look at, they represent areas lived in and places still to visit, and I have incredibly fond memories of learning to map read when I was very young. Now, as an adult, and living on a different continent from where I grew up, maps make the world seem smaller and give me a physical and emotional connection to another time and place.
One of my favorite things about using maps to create art is that they retain the inherent history of the person who owned them before me – a history I am rarely privy to yet I feel becomes part of the work I create. I often imagine maps and atlases rolling off the printing press – household names like Hammond, AAA, Rand McNally, (or Ordnance Survey from the UK, where I grew up). And somehow one of the tens of thousands of copies of that particular edition, maybe decades (once or twice even a century) after it was printed, finds its way to me. The paper is worn at the folds, yellowed at the edges, cities are circled, routes are highlighted. Coffee spills, phone numbers, and directional notes all speak to its earlier life as a functional object in someone else's hands. Through these maps I experience histories small and large as I vicariously travel other peoples' vacations, and witness the downfall of empires as borders move and country names change.
I like to say that a beautiful map makes my heart race and my hand reach for my X-acto knife. And through the cutting and tearing, the layering and pasting, the rolling and folding of that one atlas or single fold out map I too become part of its history.
Contact:
Sian@SianRobertsonArt.com