When:
May 11, 2022 @ 10:00 am – 11:00 pm
2022-05-11T10:00:00-04:00
2022-05-11T23:00:00-04:00
Where:
Gallery 444
444 Commercial St
Provincetown, MA 02657
USA

Laura Levine and Clay Fried at Gallery444 PTown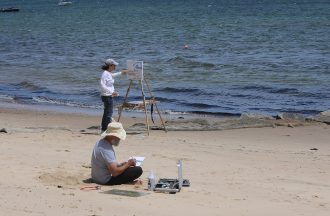 Opening on Friday night.
Laura Levine and Clay Fried both grew up on Long Island, meeting like passing ships in elementary school. Freeport was known as, the water tower proclaimed, Boating Capital of the World. Complete with its fishing shanties and marshlands, the smell of surf permeated their memory of what others knew as the Jones Beach Exit.
Fast forward a few years and Laura and Clay found themselves at Purchase College in New York studying art at this fledgling state university where they were exposed to the rigors of drawing and painting fundamentals a short jaunt to New York City galleries and museums. As you can see, their creative spirits were most kindled in the art of painting. With the help of social media, their conversations, trials and errors became the subject of much debate, trade secrets, and note comparing.
As the summers came and went, eventually Laura and Clay paid homage to Cape Cod to paint and soon discovered that they each made a special event of painting in Cape Cod, unbeknownst to each other. It's the light, the low horizon, the calm and the flamboyance. Every rainbow is a diamond and that is a starting point for Laura and Clay, lifelong acquaintances.
Laura Levine
levinefineart@comcast.net
860-304-9022
https://LauraLevineFineArt.com