When:
November 4, 2023 @ 10:00 am – 11:00 pm
2023-11-04T10:00:00-04:00
2023-11-04T23:00:00-04:00
Where:
Gallery 444
444 Commercial St
Provincetown, MA 02657
USA

Amna Greaves at Gallery 444 PTown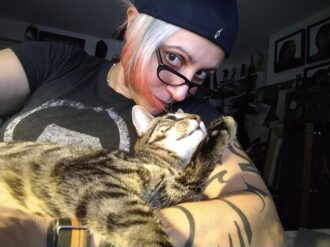 Opening on Friday night.
Amna Greaves was born in New York City in 1966, where she grew up with a passion for art and a belief in the universality of cultural diversity. She attended SUNY Stonybrook, originally pursuing a degree in art and engineering, but ultimately dropped the art program when it became apparent that the department required more than just talent to succeed. She later attended Columbia University and earned a degree in engineering.
Throughout her career as an engineer, Amna was inspired by the punk rock ethos of the 1984 cult classic film Repo Man, which encouraged individualism, creativity, and resistance against oppressive systems. She applied these values to her work, constantly seeking new and innovative solutions to engineering problems.
Despite her success in the engineering field, Amna never forgot her love of art. About a decade ago, she decided to pick up her brush and pen once again, using her art as a means of expressing her message that creativity and the human spirit cannot be suppressed. Her artwork is often inspired by the punk rock subculture, as well as her experiences growing up in New York City.
Today, Amna continues to work as an engineer while also pursuing her art. She sees her work in both fields as complementary, each helping her to understand the world in a unique way. Through her art and her engineering, Amna seeks to inspire others to embrace their creativity and stand up against conformity and oppression.
Contact: amnagreaves@gmail.com