When:
2022-08-03T00:00:00-04:00
2022-08-04T00:00:00-04:00
Where:
Gallery 444
444 Commercial St
Provincetown, MA 02657
USA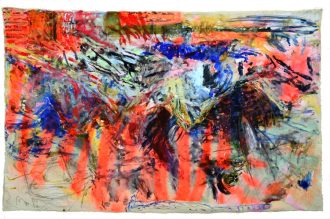 Alexandra Thompson at Gallery 444 PTown
June 8 – 15, 2022 and August 3 – 10, 2022.
Opening on Friday night.
About the Artist
I think a lot about non-human perspectives, the buckling of space and narrative time, the interface between human infrastructure and nature. I grew up on a farm in Illinois where I was often outside on my own. In paint I try to muscularly inhabit other things, to create worlds of sometimes disparate or dreamlike pieces tethered to the chaotic logic of this one.
The term 'environment' can imply a disassociation between us and what we call wild or natural. I try to work from a place that challenges this conceit. I'm interested in shintoism and the old connections of religions to nature. Maybe the things I make are bits of spirit, or icons — not of beings but of interconnections.
Many of my recent paintings are un-stretched. Drawn to the flux of boundaries and the uncertainty of wholes, I play with the shift between a thing, a backdrop, and a window. I am interested in capturing the feeling of a glimpse, or the flickering coexistence of disparate outcomes, as in my spin series and some of my diptychs. Sometimes my pieces seem to me like when someone finds the image of a saint in a piece of toast. Painting can feel like the reverse of that — a kind of hunting for a corporeal and flawed sublime; serious but also funny.
When I am not painting I work as a co-manager for my family's farm, and at times as a part-time journalist focused on science and culture. I currently live in Idaho and Cape Cod. Although I love people I have prosopagnosia (face-blindness), and I believe the fondness coupled with the anonymity also informs my work.
Contact:
athomp13@gmail.com